Hon. Jonathan Wilkinson
Member of Parliament for
North Vancouver

Period 5 opening for the CEWS
August 17, 2020
📣
Now open: Application for period 5 of the CEWS.
Changes to note based on changes introduced by Bill C-20:
- An extension of the CEWS until November 21, 2020.
- Broadening of the program by providing a gradually decreasing base subsidy to all eligible employers that are experiencing a decline in revenues. This will help many struggling employers with less than a 30-per-cent revenue loss get support to keep and bring back workers, while also ensuring those who have previously benefited could still qualify, even if their revenues recover and no longer meet the 30 per cent revenue decline threshold.
- A new top-up subsidy of up to an additional 25 per cent for employers that have been most adversely affected by the COVID-19 crisis.
- Providing certainty to employers that have already made business decisions for July and August by ensuring they will not receive a subsidy rate lower than they would have under the previous rules.
➡️
Calculate your subsidy amount: https://www.canada.ca/en/revenue-agency/services/subsidy/emergency-wage-subsidy.html
Please note: The CRA online services are experiencing service distributions until further notice.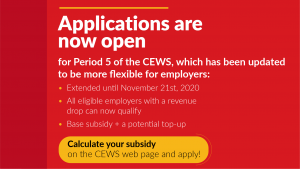 Main office - North Vancouver
310 Esplanade E Suite 201
North Vancouver, British Columbia
V7L 1A4
Hill Office
House of Commons
Ottawa, Ontario
K1A 0A6